Randy Shavis - Thirty Days 'til the Draft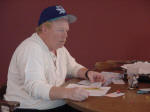 Thirty days 'til the draft
T minus 30 and counting: just waiting for the book/disks
T minus 29 and counting: waiting for the book/disks, wondering who'll be available
T minus 28 and counting: still waiting for the book/disks
T minus 27 and counting: STILL waiting
T minus 26 and counting: STILL WAITING For the darn book/disks—are they purposely hiding this info? I'm calling Scully and Mulder
T minus 25 and: whoa, book is finally here—but it shows up on a day I have work, then class
T minus 24: That darn book—Wells is a 4 instead of a 2, Yoshii is a 33 instead of the 26 predicted…
T minus 23: taking the day off to study the book
T minus 22: checking out the book to see if there are any golden nuggets hidden
T minus 21: Winter meetings: lying about who's interesting and who's going to Japan
T minus 20: Okay, I have two firsts and two seconds, will there be anyone worth taking with those picks
T minus 19: No, Dave, I don't want to trade any of those picks. Want to trade me an extra second?
T minus 18: What was I thinking, there aren't four guys who'll be there when I pick worth taking in the 5th round
T minus 17: Should I take him or him with my first pick? If I take him, can I then trade him to Thurston for his house?
T minus 16: Have book memorized
T minus 15: Tired of looking at book
T minus 14: No, Dave, you can't borrow the book-I need it to sleep well at night
T minus 13: Sleep, what's that? I now have a short list of the guys who have 1b-5e25 in the book who could step in if Nick, Frank, and Ortiz are out
T minus 12: Yep, I'm taking him because he got a gold star in TSN Forecaster
T minus 11: No, I can't take him, because ESPN just said he's ticketed for Tacoma.
T minus 10: The draft is 10 days away… will it ever get here?
T minus 9: Just heard that Dave traded for the pick in front of me and is targeting the guy I want.
T minus 8: Just heard Dave traded that pick but now has first two picks in draft and wants my plan A and plan B
T minus 7: Guys are going to get the cards today
T minus 6: Guys are back, but are sleeping off the trip
T minus 5: Still need to mark a few cards
T minus 4: picked up my team—I may not win 25 games—have to draft 10 relievers
T minus 3: Three days… will it ever get here
T minus 2: Two days… I can't wait
T minus 1: I'm not ready!! I need more time to study! Help
T day: Okay, let's go…