Jim Proffitt - My Life in Strat Baseball (part 1)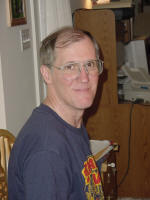 1983 - The First Year
Well, the league is setup and ready to go. There were a total of 16 teams, 8 in each league. I picked to be in the National League, received the draft list, and began to prepare for the first draft.
The opening draft was held at Richardís apartment. It was great meeting new friends. There were six managers there that are still playing today; Richard, Randy, Pat Jennings, Tom, Don and myself. The draft was 30 rounds with no players to start with, kind of what Earl doing this year. :)) Tom had the first pick and picked Ozzie Smith. I had the sixth pick and took Bob Horner. In the second round I took Tim Raines. I remember meeting a great friend named Richard there. He was there giving out baseball cards to each manger for the players they picked.
My team philosophy was like the St. Louis Cardinals, speed, defense and pitching, with some power. That opening team had players like McGee, Templeton, Raines, Horner, and Sax. My pitching featured the Candyman, McWilliams and DeLeon. McGee, Templeton and DeLeon stayed on the team for many years.
The Roadrunners first Strat game was against Tom Myers. I played over his house in the fan area. A gentleman was there observing the game, which would become the current Ducks manager, Jim Melillo. I won the first game 2-1 on a homerun in the bottom of the 10th.
That first season was a learning process. I was trying to learn the advanced game while general managing the team. The first season, I ended up in 5th place, just missing the playoffs. We played only 120 games this first season, but the next year we started playing 162 games. I remember the talk from some managers concerned on how to get in 162 games. It still is a problem today. The highlight of the opening season was when Raines stole 82 bases. This was the season I gained the reputation of a gambling manger that would run and play hard.